Khaya Dlanga Reports on the Peace Bus and the March Against Xenophobia in Durban
Two hours after arriving back in Johannesburg from a whirlwind trip to Durban to protest against xenophobia, Khaya Dlanga spoke to Leanne Mannas on Morning Live about the Peace Bus initiative.
The author of To Quote Myself teamed up with Shaka Sisulu to organise a bus to transport people to the march that took place yesterday (on his birthday) at 10 AM from the Curries Fountain to the City Hall.
In the video Dlanga speaks about his frustrations in watching the xenophobic attacks take place from a distance: "I got really tired of just complaining on social media because I felt like maybe I needed to do something tangible, we needed as a group of people to find something tangible.
"I called up Shaka Sisulu and I said we need to do something, I think we need to go to Durban for the March on Thursday." Sisulu replied, "Let's make it happen" and the rest is history.
Dlanga says the march had a generally positive atmosphere except for the negative comments that could sometimes be heard from the people who opposed their protest. He says that the protest is just the beginning: "There needs to be an educational process throughout the country … What do we need to do to make sure this doesn't happen in the next six months again?"
Watch the video: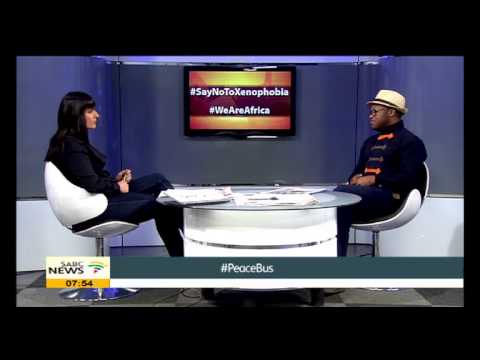 Follow #PeaceBus and #No2Xenophobia on Twitter to keep updated:
Book details