Greg Mills Profiles the Heroes of SA Motorsports in Agriculture, Furniture & Marmalade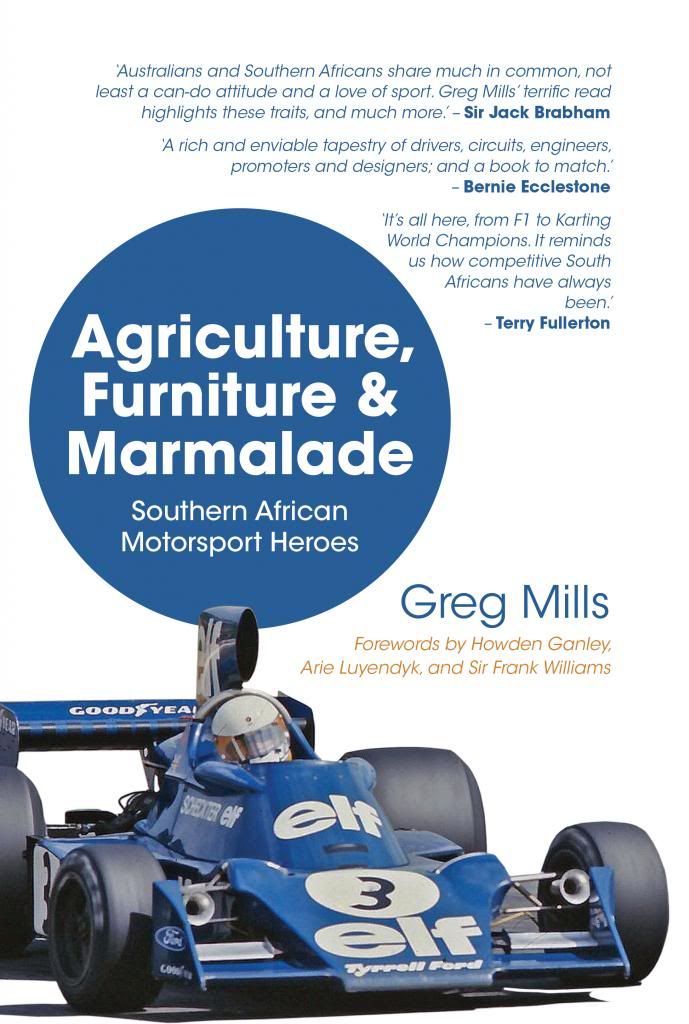 New from Pan Macmillan, Agriculture, Furniture & Marmalade: Southern African Motorsport Heroes by Greg Mills:
Jody Scheckter, to date South Africa's only Formula One World Champion, received the following advice from Jackie Pretorius on his departure for fame and fortune to England in 1971. 'Jackie pulled me to one side and told me that I had to learn some big words to impress the Europeans. He said he would give me three then and there – 'Agriculture, Furniture and Marmalade – preferably to be used in conjunction with one another.'
Many the drivers and designers covered here pursued their careers in an era when deaths in motorsport were commonplace, a reflection on the tracks, the cars, and on the cavalier attitude of drivers themselves. For them, it was an era of la dolce vita; for the public, braaivleis, sunny skies, Formula One and international sportscar racing.
This book covers those southern Africans who made it as drivers, engineers, mechanics, and promoters in international motorsport, from Woolf Barnato's three victories in the Le Mans 24-Hour classic to the era of Sarel van der Merwe.
'Greg … [has] delivered an extraordinary book … It will stand out as both a marker and reference for future generations interested in the sport, one from which lessons of hardship, courage, derring-do, sportsman (and woman) ship, ingenuity and excellence should be drawn.' – Howden Ganley, March, BRM, and Maki F1 driver
'This book perfectly captures the spirit and the characters of the time.' – Sir Frank Williams CBE, Team Principal: Williams F1
About the author
Greg Mills, the head of the Brenthurst Foundation, is probably best known for his political books, most recently Africa's Third Liberation (2012) and the bestselling Why Africa is Poor (2010). But he is also the grandson of pre-war South African Grand Prix driver William Arthur Frank 'Billy' Mills and his other interests include restoring and racing historic racing cars. He has previously co-authored and self-published five acclaimed books on southern African motorsport: For the Love of It: John Love and an Era of Southern African Motorsport (2005); Springbok Series: An Era of Sports and Saloon Car Racing in Southern Africa (2006); "Love First, Tingle Second"': Sam Tingle's Motorsport Scrapbook (2006); "PIPES!" David Piper and the Springbok Series (2007); and "Paddy – Who?" A Driver's life of Bikes and Cars (2009).
Book details