A Launch with a Difference for Marlene van der Westhuizen's Abundance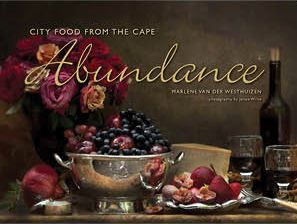 The launch of Cape Town celebrity chef, Marlene van der Westhuizen's latest book, Abundance, was a fascinating event, despite the author's absence due to illness. Deon van der Westhuizen, who joked about being known best as "Marlene's husband" was joined by the book's editor, Heather Parker, and 567 Cape Talk host, John Maytham at Kalk Bay Books.
Deon van der Westhuizen praised the gorgeous photography of Johan Wilke, that brings to life the food that Capetonians love. This, the latest offering from the pen of Marlene van der Westhuizen, is her ninth book, and follows on from the huge success of Delectable and Sumptuous. In particular, Abundance celebrates the city, looking at the bistros, eateries and watering holes that the author loves best.
Marlene van der Westhuizen, the owner of The Food Studio in Greenpoint, conducts cookery tours in her other home, Bagatelle, in the medieval French village of Charroux, Auvergne. Heather Parker, who attended one of these courses recalled how Marlene van der Westhuizen helps people overcome their squeamishness about food preparation. "There's a lot of myth making and magic making that goes on as ordinary people learn to make wonderful things. People get away from 'fiemies' as Marlene takes the fussiness out of food preparation. People who are not chefs turn out beautiful subtle dishes," she said.
The audience thoroughly enjoyed the convivial evening gossiping with the author's husband and dear friends. Despite the absence of their favourite celebrity chef, a good time was had by all and a signing of the book was promised for a later date.
* * * * * * * *
Liesl Jobson tweeted from the launch using #livebooks:
A goodly crowd has gathered@kalkbaybooks for the launch of Marlene Van der Westhuizen's recipe book, Abundance. #livebooks @panmacmillansa

— Liesl Jobson (@LieslJobson) September 14, 2012
John Maytham says he will do castanet demonstration as Marlene too ill to attend launch tonight. Her husband Dion in her place. #livebooks

— Liesl Jobson (@LieslJobson) September 14, 2012
Heather Parker, editor, joins John Maytham & Deon Van der Westhuizen. #livebooks @kalkbaybooks

— Liesl Jobson (@LieslJobson) September 14, 2012
Deon: As Marlene's partner I'm hanging onto her coattails, known as M's husband! Book about Cape Town. Lot of Marlene in book. #livebooks

— Liesl Jobson (@LieslJobson) September 14, 2012
Deon tells remarkable story of Marlene's training as chef. Harassment resolved when she took on bully, threatened him with knife! #livebooks

— Liesl Jobson (@LieslJobson) September 14, 2012
Chefs are interesting breed of person. You don't take them on. You can't change them either, says Deon Van der Westhuizen. #livebooks

— Liesl Jobson (@LieslJobson) September 14, 2012
Heather Parker: Marlene comes out to table with steaming platters that are bigger than she is. Generosity of sharing fabbo food. #livebooks

— Liesl Jobson (@LieslJobson) September 14, 2012
Maytham likes book because not intimidated by recipes. Feel I can carry them off. Hey, I can do that! Book welcoming, accessible. #livebooks

— Liesl Jobson (@LieslJobson) September 14, 2012
Heather Parker & John Maytham listen as Deon Van der Westhuizen talks about the French music in Abundance! #livebooks twitter.com/LieslJobson/st…

— Liesl Jobson (@LieslJobson) September 14, 2012
Quirky humour & approach to food. Parker says it's personal intimate book with vignettes from their home. Wilke captured stories. #livebooks

— Liesl Jobson (@LieslJobson) September 14, 2012
Lovely questions from audience, reflections on book and author. Deep regard & affection for her in absence. Get well soon lady! #livebooks

— Liesl Jobson (@LieslJobson) September 14, 2012
John Maytham takes another dip at Sasolburg. Can any good thing come from there? Indeed. Marlene born there! Much creativity. #livebooks

— Liesl Jobson (@LieslJobson) September 14, 2012
Facebook gallery
Book details