Frank Chikane says Eight Days in September Has Broken the Culture of Fear Within the ANC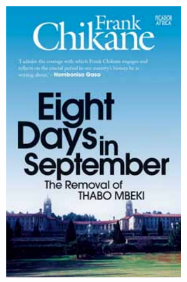 Frank Chikane, author of Eight Days in September: The Removal of Thabo Mbeki spoke at a recent Daily Dispatch and University of Fort Hare Dialogue session, where he argued that the book allowed members of the ANC to speak out about the excesses of the party without fearing repercussions:
Ruling party factionalism and mafia-like syndicates had created a dangerous culture of fear and secrecy which were edging South Africa towards dictatorship and coups d'etat .

This was said by best selling author and former cabinet secretary the Reverend Frank Chikane in East London on Monday night.

He received a standing ovation from about 500 people, most of them ANC members and supporters.
Book details