Excerpts from Frank Chikane's Eight Days in September: The Removal of Thabo Mbeki
Frank Chikane's new book, Eight Days in September, has been creating waves since its publication this month. The Johannesburg launch of the book on Wednesday was attended by over 500 guests, including Julius Malema.
Chikane's book, which tells of the eight-day period in September in which Thabo Mbeki was booted out of the presidency, has been heavily featured in the press. Here are four extracts:
DEPUTY President Kgalema Motlanthe, then-secretary-general of the ANC, first came to government in July 2008 as an unwilling minister without portfolio in the presidency. He was selected by the post-Polokwane leadership to take care of their interests because some deeply distrusted Thabo Mbeki. For them, Mbeki should have been removed as president immediately after Polokwane.

There was no clear indication of what these interests were. The reality is that Polokwane did not radically change the policies of the ANC relating to governance issues. The traditional ANC language of "change and continuity" was used at the Polokwane conference to indicate that the overall thrust of the policy was unaltered. The only changes related to aspects that would enable the government to better achieve the broad objective of the ANC, which was to better the lives of the people.
"(President Jacob) Zuma himself had indicated earlier in the week, employing an unfortunate but evocative expression, that there was no point in 'beating a dead snake', that Mbeki should be left to finish his term.

"I imagine that Zuma simply used this expression to make the point that there would be no harm in letting Mbeki complete his term.

"The media, though, made a feast of it. The word 'snake' has a deeply negative connotation.
Although the exercise was useful, enabling us to prepare ourselves for any eventuality, it was also both theoretical and speculative. We had to wait for the NEC (national executive committee) to make its decision before we could determine the implications.

Uppermost in our minds was the commitment to maintain stability in the country, whatever the outcome of the NEC meeting.

President Mbeki had made this very clear. His attitude was based on two hallmarks of ANC policy and Mbeki's presidency.
t was after midnight of Friday, 19 September 2008 – to be precise, just before 1.00 a.m. on Saturday – when the first text messages began to come through: 'the NEC has decided to recall Mbeki as president of the country'.

Another said that ANC officials had been appointed to visit Mbeki immediately, that night, to inform him of the NEC decision.

Other text messages kept coming from NEC members in Esselen Park celebrating that they had won and that Mbeki was to be removed or else expressing concern over the consequences of the NEC decision.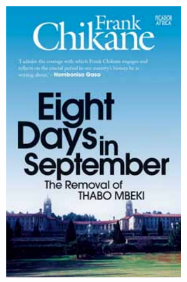 Book details
Photo courtesy Women24