Steven Boykey Sidley Debuts with Entanglement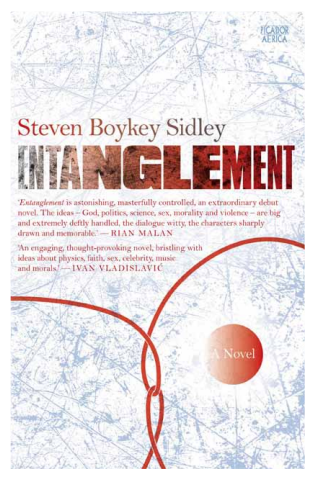 This March, Pan Macmillan will publish Entanglement, the debut novel from Steven Boykey Sidley:
Charismatic physicist, Jared Borowitz, is fast losing his sense of humour. Everywhere he looks he sees ignorant and superstitious fools. His mentor, a giant of science and logic, is dying. His ex-wife has switched gender preference. He has even punched someone for the first time in his life. And enjoyed it. His girlfriend, morally certain and strong willed, is worried.
On a restorative weekend in the country with opinionated and urbane friends, Jared's arrogance sets in motion a chain of events that brings menace and violence into their lives over a long night. Confronted by both the best and worst in men, he finds his preconceptions about humanity shattered.
Entanglement ranges broadly across the tensions between science and belief, free will and fate, art and artefact, violence and justice, sex and love, arrogance and timidity.
Darkly humorous, intellectually adventurous and continually surprising, the novel follows the transformation of a man of certainty and science when confronted with a world he does not know.
"Entanglement is astonishing, masterfully controlled, an extraordinary debut novel. The ideas – God, politics, science, morality and violence – are big and extremely deftly handled, the dialogue witty, the characters sharply drawn and memorable." – Rian Malan
About the author
Steven Boykey Sidley has divided his adult life between the USA and South Africa. He has meandered through careers as an animator, chief technology officer for a Fortune 500 company, jazz musician, software developer, video game designer, private equity investor and high technology entrepreneur. He currently lives in Johannesburg with his wife and two children.
Book details