Jonathan Jansen's Guidelines on Choosing a Career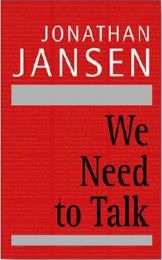 The stress of choosing a career begins already with subject choice in Grade 9 as high school learners, usually with the help of their parents, start to narrow down your options. Jonathan Jansen, education specialist and author of We Need to Talk, provides parents with some guidelines about how to gently steer their children in the right direction.

"Hold out both your hands," says a teacher of young children. "Fat fingers, you will do Latin. Thin fingers, you will do music."

The relative recalling this experience after more than three decades speaks with a hint of bitterness about how he missed out on music education. This time of the year the same kind of recklessness is experienced by hundreds of thousands of South African children.

In Grade 9, children – or rather their parents – have to choose their subjects for the last three years of high school. It is not an easy choice, for the subjects you choose during these years will determine what kind of degree you can do at university, and therefore what kind of job you will be qualified to do once you graduate.
Book details